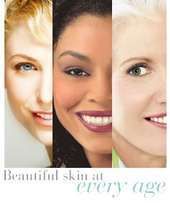 This round, I would like to share with you on one of my best friends' pleasant experience with strivectin.
Few months ago, myself and my best have got to know about this brand from a male colleague. According to this colleague, one of his girl friends working in one of the famous beauty companies in KL, told him that there is this new skin care product Strivectin (cream for aging) from USA has penetrated the Malaysian market recently. What is so special about this product? A strong and bold tag line - BETTER THAN BOTOX? Not bad huh...
You know, girls, whenever hear about these sorts of miracles words, they will become crazy!! However, we also heard that this product is a bit pricy..sigh.. So in order for our money worth the price, we did our reserach and home work...hehe...research from internet (check out
http://www.kleinbecker.com/
), and referred to sales promoters at departmental stores (not only promoter from 1 particular departmental store, but many, to check out about this product.
Finally finally, my best friend has started with its eye cream. Based on the product description, user is supposed to see its effectiveness after 28 days usage, with twice applications per day. After 1 month plus usage, there was one day when this friend of mine went shopping at Mid Valley. She casually stopped by at a Biotherm road show counter, where one of the sales girl offered to do a free facial wrinkle test for her using their electronic devices.
Guess what happened?? The test result showed that her eye area is almost wrinkle free! The sales girl gently pulled her aside and said, "Ms, can you tell me what eye crean are you using? But pls don't let anyone know that I've asked this". Funny, this is the first time I've heard about a skin care consultant who is asking for advice from customer and not the other way round...heheh....Guess I don't have to validate and elaborate more on how effective this product is.
I have just started using this product recently. My best friendst satrted off with eye cream, I started with the face cream. If this friend of mine have the opportunity to read this article, you know who you are....heheh.....Cheers